BACK TO OFFICIAL FILM WEBSITE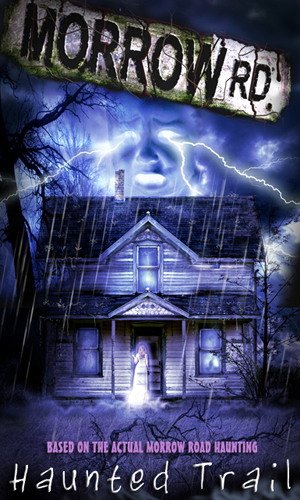 The Morrow Road Haunted Trail has officially closed... for good.
Simply put, too many customers were murdered and many more still haven't been found... though some body parts were recovered.
Oh well, they were warned.

The trail fundraiser was a success for five straight years from 2007 - 2011.
The haunted attraction (supervised by Francis J Sampier) was voted "Best Trail in Michigan" in 2008, 2010 and "Best Outdoor Haunted Attraction" 2011
It was also voted 5th place for Best Haunted Attraction in Michigan in the Channel 4 "Click to Vote" 2011.

I would like to thank all the volunteers we had over those past fiver years, which totaled over 460! Without you there would be no trail.
Your names will appear in the independent film's end credits and some of you may end up as an extra in the film!

Factoids on the Haunted Attraction:
The Morrow Road Haunted trail was a self-guided walk (except for its first year where a guide took a group in every 15 minutes)in the dark!
Each year featured factual information on the real Legend of Morrow Road since each year the trail was held in the actual haunted Morrow Forest.

Trail Length:
2007 - 1/4 Mile | (15 min) (Guided Tour)
2008 - 1/2 Mile | (30 min) (Self-Guided)
2009 - 3/4 Mile | (40 min) (Self-Guided)
2010 - 1 Mile (50 min) (Self-Guided)
2011 - A little over 1 Mile | (1 hour) (Self-Guided)
Trail Factoids:
2007
Volunteers: 30
Length - 1/4 Mile | (15 min) (Guided Tour)
Offered A Hayride
Location was extremely close to the real Morrow Road and in the actual Morrow Woods
The first of the real Morrow Road Theories reenactment was built: The Bridge... (hanging theory) the only Station to remain all five years!
Customers could meet the filmmakers behind the film! (something that also remained for all 5 years)
Merchandise was added including a shirt by Film Graphic Artist Josh Werner--a tradition he'd continue every year with a new collectible shirt!

2008
Volunteers: 72
Length - 1/2 Mile | (30 min) (Self-Guided)
Offered a Longer Hayride
Location was moved and increased in size, still close to the real Morrow Road and in the Morrow Woods
An indoor Food/Ticket Building was added.
A new Shuttle Ride was added using a really old and terrifying RV! This was used for the remaining years, though barely functioned in 2011.
The infamous "entrance" was formed at only 40 ft long feature the "Mistresses" who would remain for the next three years!
More Stations were constructed. (A station is an instance of where something freaky happens to the customer)
Another Morrow Road Theory Station was added (Station House/Murder Scene) where another of the real-life theories of Morrow Road was reenacted.
A live horse (headless horseman) was added for effect.
The infamous Super-Detailed Pumpkin Carvings were added down the lane to the bonfire! (This remained for the 3 years remaining!)
First place Awards were added for the volunteers!
2009
Volunteers: 116
Length - 3/4 Mile | (40 min) (Self-Guided)
Hayride was removed to improve Stations and better volunteer use.
The entrance (which became known as the "pallet prison") was expanded to 80ft in length!
More Stations were built, including a new bridge that increased in width (6ft) and doubled in length (16ft).
The Trail took 3rd Place in voting that year due to a rare "lull" night of volunteers the night they came to vote. It happens to all attractions.
2010
Volunteers: 105
Length - 1 Mile (50 min) (Self-Guided)
The trail was redesigned from the ground up and brand new paths were created!
The entrance Pallet Prison was expanded to 420 ft long!
A 200 sq ft pitch black maze was added as a finale.
More stations were built (including a church) and more "sink pits" were added.
2011
Volunteers: 137
Length - 5,340 ft | (1 hour) (Self-Guided)

The finale maze was expanded to 400 sq ft!
More stations were built, including a mini orphanage and a mini-pallet prison!
The entrance Pallet Prison maxed out, not only expanding to 860ft long, but going two-stories into the air!
The trail was slightly rerouted with new end paths.
A second place award was added to for the volunteers.



Official Volunteers Names can be found by clicking here. Contact if you have any question regarding the trail by clicking here.

Video of the speech from the 2011 Morrow Road Party coming soon.
All in all those five years were some of the best of my life, I met a lot of new friends and the trail succeeded in its goal of helping raise seed funds to get the film Morrow Road off the ground.
I made a hard decision early 2012 to close the trail for good. Unless you run a complicated event/attraction like this--you can never understand how much energy it takes to make an event
like this work like a well-oiled machine. Due to the increase in the film's gaining momentum I declared I was unable to keep the trail going any longer. Perhaps in the future it will reopen... in
a brand new location. Only time will tell.
Thank you volunteers and thank you customers for making it a successful five years!
I will cherish the memories forever.
-Francis J Sampier
Morrow Road Haunted Trail Creator

BACK TO OFFICIAL FILM WEBSITE